An investigation into attempted fraud
We are publishing information about a user who attempted to defraud us. As outlined in previous blog posts and tweets, we are going to aggressively publish the information about anyone trying to attack, hack or defraud us.
The person tried to use alleged stolen credit cards to purchase an Intelligence X subscription.
Email addresses and IPs used by the fraudster:
support@droneitallcreations.com on 2020-06-25 20:00:39

IP 2600:6c64:607f:eccb:25a7:930a:863a:800

b8nkccartel@pm.me on 2020-06-25 20:01:18 and B8nkCcartel@protonmail.com
sue.rielly010@gmail.com on 2020-07-03 18:09:53

IP 2600:6c64:607f:eccb:f0e9:ed94:18e3:c15b
The domain droneitallcreations.com (now defunct) was registered on 2020-06-15 and had the website title "Drone It All Creations – Central Massachusetts Aerial Cinematics Offer top quality photos-Prints – and one of a kind drones.". It was an apparent copy of a legitimate website https://drone-it-all.business.site/.
We have notified the user that we are sharing the information with law enforcement and got a nice all-caps email in response: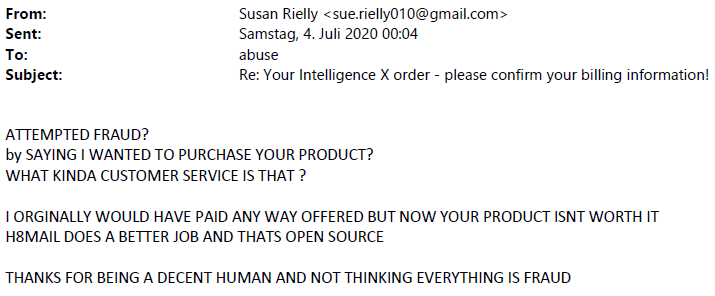 Privacy
As always, it is worth noting that we are fully compliant with privacy laws as well as our own privacy policy. On signup the user agreed that information about attacks may be collected and shared with the public and law enforcement.
Intelligence X will continue to publish information about attacks affecting our company and service.