An OSINT investigation into the alleged Hunter Biden email
Disclaimer: Intelligence X is politically neutral. This investigation is based on public information (open source intelligence).
tl;dr: It appears that the email addresses appearing in the alleged email are accurate. This does not validate nor refute the content of said email.
The New York Post published today the two articles "Hunter Biden emails show leveraging connections with his father to boost Burisma pay" and "Senate committee investigating alleged Hunter Biden drive, smoking-gun email". According to The Verge, "Facebook has reduced the reach […] pending a fact-check review". Vox calls it "a suspicious effort to swing the election". According to Motherboard, "Twitter […] started blocking sharing of the article in line with the site's policy against hacked material.". At the time of writing, this story has not been covered by major outlets, including the New York Times.
The second linked New York Post article features a video which shows the following frame at 00:27: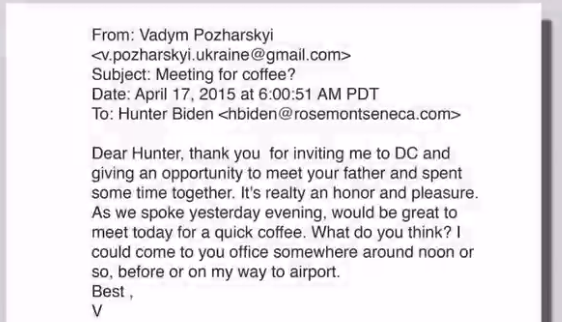 There are two email addresses clearly visible:
Vadym Pozharskyi <v.pozharskyi.ukraine@gmail.com>
Hunter Biden <hbiden@rosemontseneca.com>
While we cannot verify (or refute) the contents of the email (and we make no claim of its accuracy), we can research the email addresses used.
Vadym Pozharskyi
Searching Intelligence X for Mr. Pozharskyi's email address reveals a historical whois record from 2014: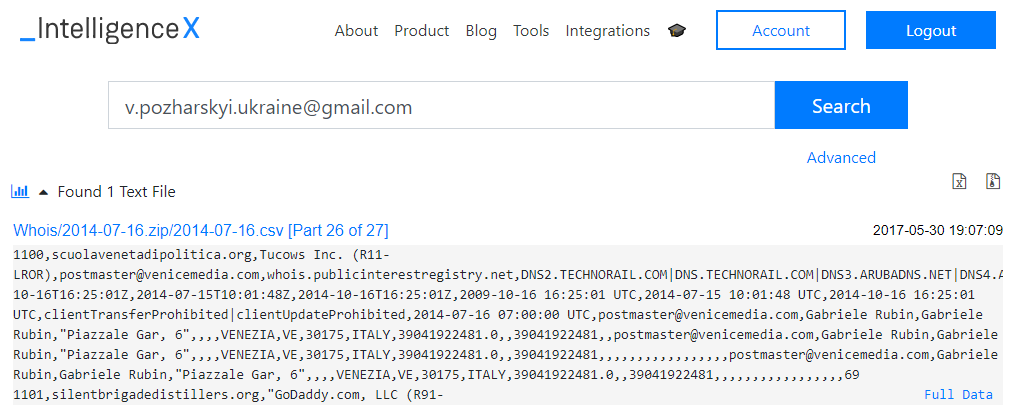 It shows that he is the registrant of the domain aigpu.org, with the following Whois details:
Registrant Name:Vadym Pozharskyi
Registrant Organization:Burisma Holdings
Registrant Street: Ryleeva, 10,
Registrant City:Kiev
Registrant State/Province:Kiev
Registrant Postal Code:01129
Registrant Country:UA
Registrant Phone:+380.0442560104
Registrant Phone Ext: 
Registrant Fax: 
Registrant Fax Ext: 
Registrant Email:v.pozharskyi.ukraine@gmail.com

The physical address listed with Burisma Holdings matches with company details listed in the business directory dnb.com and other public sources (including indirectly in this SEC filing which mentions Burisma Holdings Limited).
Therefore, it is accurate to historically associate Vadym Pozharskyi as a member of Burisma Holdings with the email address, v.pozharskyi.ukraine@gmail.com.
Hunter Biden
Our investigation uncovered information that confirms that Mr. Biden is professionally using the email address hbiden@rosemontseneca.com. Four different results independently confirmed this finding. Due to the sensitivity of our findings, we have redacted this email address in Intelligence X. However, we can provide a summary of our findings to news organizations for fact checking.
Rosemont Seneca
Our Phonebook reveals a bunch of email addresses associated with the domain, rosemontseneca.com, including Hunter Biden's: