Revised License System & Private Data Leaks
We have revised our license system! Check out our updated product page https://intelx.io/product for the details on available licenses and their permissions. Here's what we published that was not online before:
Detailed list of features available for each license
List of buckets that are available in full and as preview by each license
Pricing scheme for Enterprise customers
The existing licenses "Free" and "Academia" remain the same.
Private Data Leaks
All paying customers with a Professional license were upgraded automatically (for free!) and have now full access to the "Private Leaks" category, which was previously exclusive to our Enterprise tier. Due to the sensitive nature of that data, it is only available as preview for Trial accounts.
The "Private Leaks" category holds 4+ billion selectors and is only available to corporate clients.
This new category is only visible if you are logged in and have the Trial, Professional or Enterprise license assigned: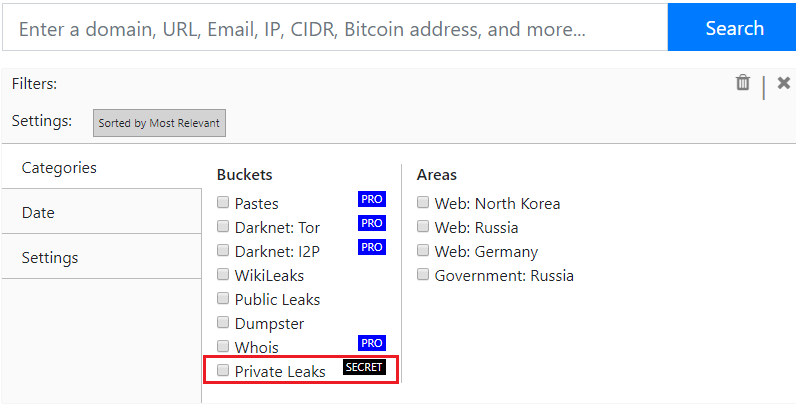 We have updated our Terms of Service to reflect these changes.
Spotting Preview Results
You can spot results that are only available as preview via the new "PREVIEW" label positioned next to the date in the result list. Preview means that you only see the first 1000 characters, with the rest of the data being redacted.